Cell migration assay
Analysis of mechanisms occurring during migration
4DCELL DEVICE
READ-OUTS
Quantification of cell migration speed, persistence, standardization of cell path, cell adhesion (cadherin, integrin), cell polarization during migration.
STANDARD CULTURE LIMITATION
In standard cultures, cells are randomly seeded and grow without a specific organization. Moreover, they encounter a homogeneous and vast adhesion substrate and thus has little in common with the characteristics of the in situ microenvironment.
CELL MIGRATION ASSAY
Micropatterning methods allow the reconstitution of tissue-like conditions for in vitro cell culture to mimic migration under high geometrical constraints that take place in vivo. With this 4Dcell assay, we can analyze the regulation of cell adhesion (integrin and cadherin -based) occurring during cell migration.  
EXAMPLE
Polarization of cells on micropatterned-lines [1]
Mircopatterns (thikness of 6µm). (B) Bsc1 cells in a standard culture. (C) Bsc1 cells on micropatterns.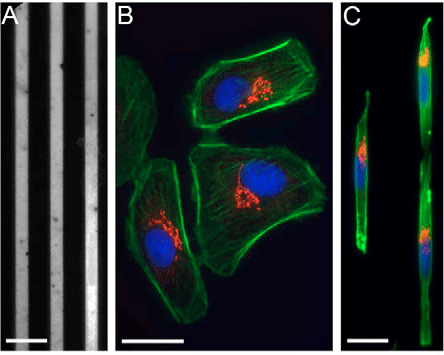 The actin network in green, the Golgi complex in red and the nucleus in blue.
Regulation of cell adhesion during cell migration [2]
Different types of migration can be more easily studied with micropatterns such as in independent cells (A) or in cells migrating as a group (B).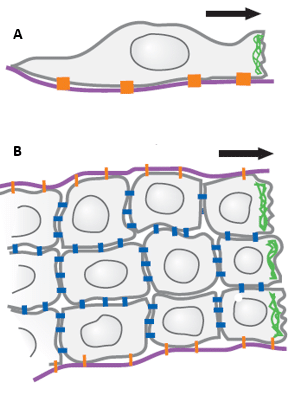 Integrin-mediated adhesion in orange, Adherins junction in blue and actin cytoskeleton in green