Immune cells interaction
2D interaction of non-adherent immune cells
4DCELL DEVICE
READ-OUTS
Interactions in between cells.
STANDARD CULTURE LIMITATION
Non-adherent immune cells poorly migrate on flat surfaces which can limit their interaction with other cells.
However, there is an enormous difficulty in qualifying immune cell migration and interaction, since these cells depend on non-adherent confined migration, which cannot be reproduced in a common petri-dish.
IMMUNE SYSTEM IN A WELL BENEFITS
Confined in-between two surfaces, immune cells show restored migration behaviors and can migrate in a 2D space. This makes their observation and analysis with a microscope easier than in within a 3D matrix. And in these conditions, within a smaller volume, the probability of interactions between cells, which easily meet, is increased.
EXAMPLES
Confined immune cells [1]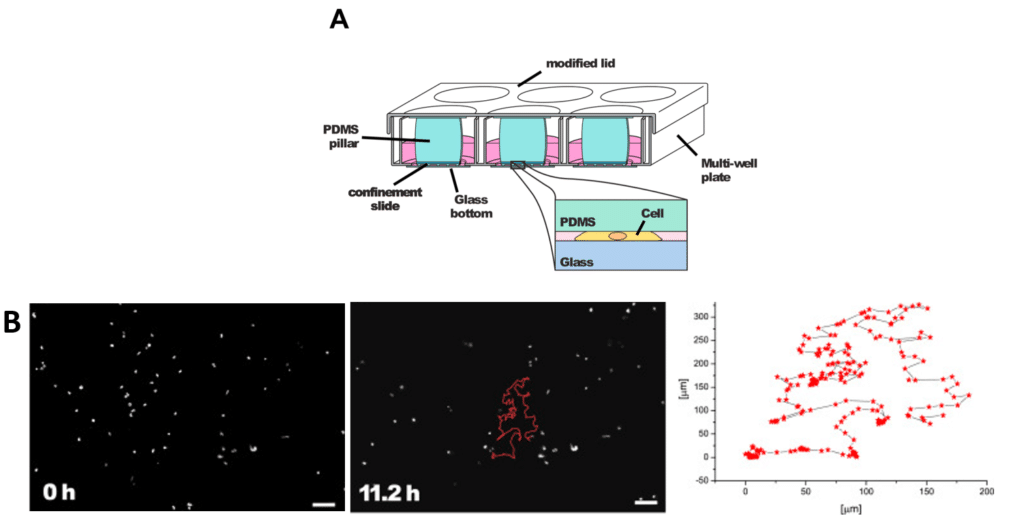 (A) 6-well confiner
(B) Tracks of individual nuclei. Results show that cells move more in a confined space enabling to meet others types of cells. Scale bars: 100 μm.