Chemotaxis assays
Analysis of cell behaviors and cell migration in confined spaces
4DCELL DEVICE
READ-OUTS
Chemotaxis, chemo invasion, comparison of different cell type behaviors and cell migration in confined spaces
STANDARD CULTURE LIMITATION
Commonly used in vitro assays, such as the modified Boyden chamber or trans-well assay, provide end-point data but no information on cell behavior between the start and conclusion of the experiment.
CHEMOTAXIS ASSAY
With the 4Dcell assay, you can analyze the migration of many cell types after the establishment of a chemotactic gradient generated by positive pressure between inlet and outlet wells, that does not require the use of external pumps.
EXAMPLES
Dynamic optical range of microchannels for variable-scale analysis of cellular behavior [1]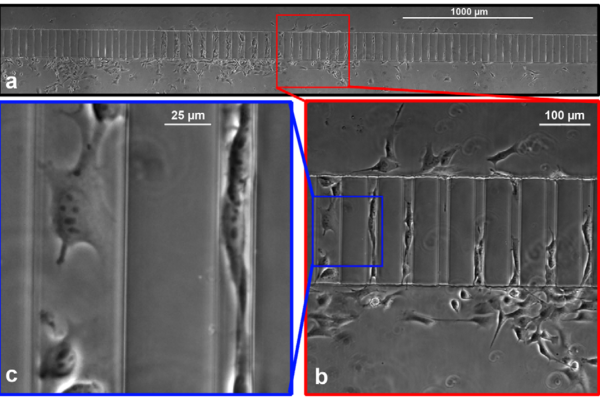 Data can be obtained on many cells simultaneously (a), in a specific microchannel configuration (b) or from an individual cell (c).
Cell morphology and cell speed is Influenced by channels width [1]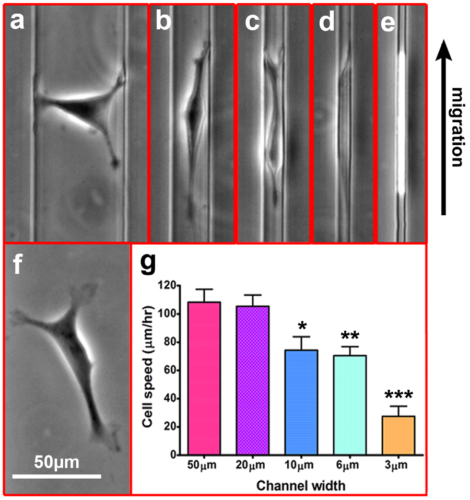 When channel width is over 20µm (a-b), cells are like in 2D flat surface(f) and they are not constricted. But, when the width decreases, the cells tends to be deformed (c-e).
In addition, under 20µm, cell speed decreases with the width (g).