MICROCHANNELS FABRICATION KIT
Make your own microchannels for cell assays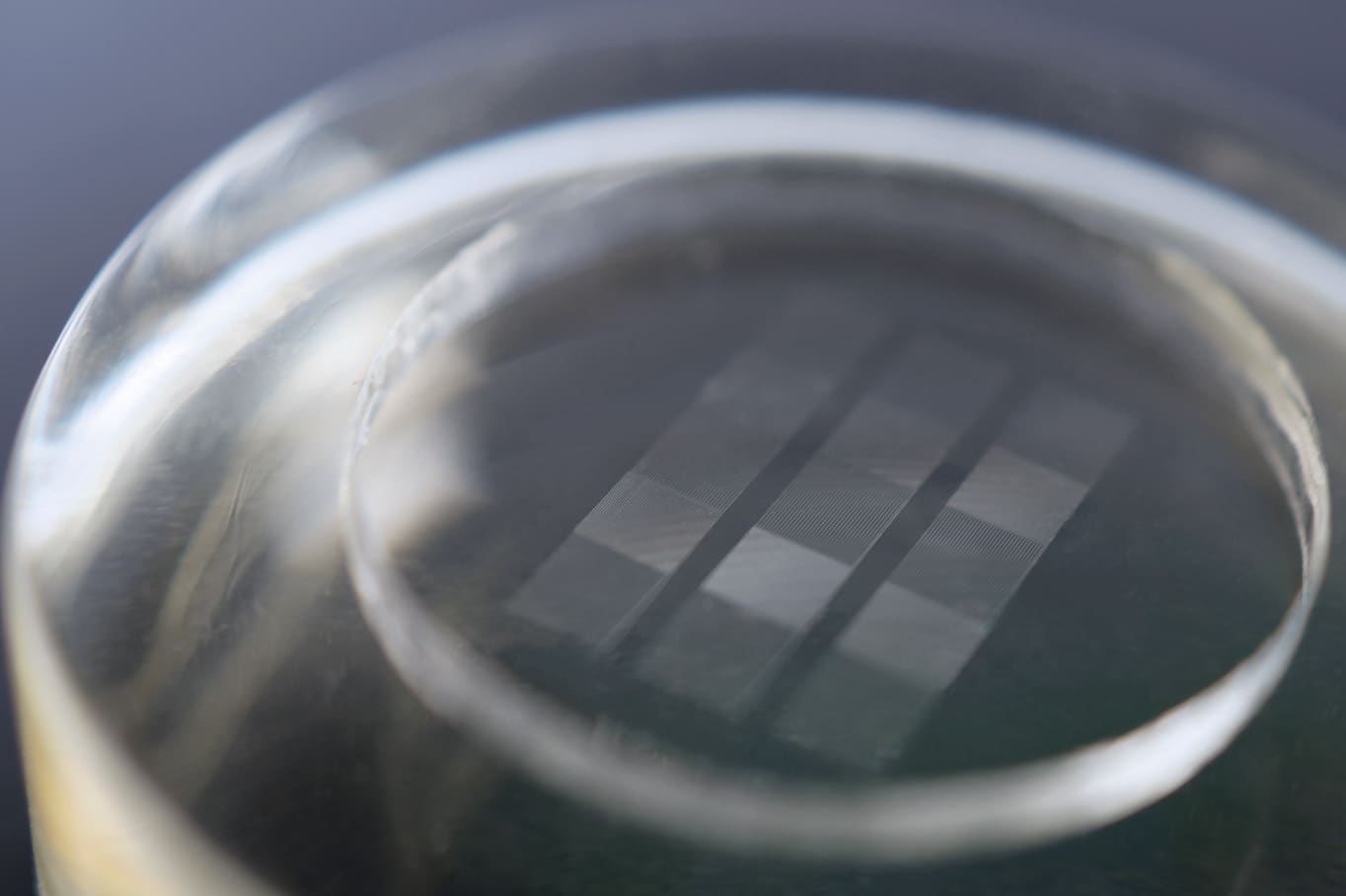 Cells are loaded into a central chamber communicating with multiple microchannels that can be analyzed simultaneously by microscopy.
Live Cell Imaging: compatible with high resolution live microscopy
> CONTROL OVER THE PROTOCOL
All the tools needed to do chips by yourself
> VARIOUS MICROCHANNELS DESIGNS
Choose 4 molds between small, medium and large microchannels designs
> AUTONOMY AND AFFORDABLE EXPERIMENT
Make 100 microchannels chips and keep the knowledge in your lab
HOW TO HANDLE YOUR MICROCHANNELS FABRICATION KIT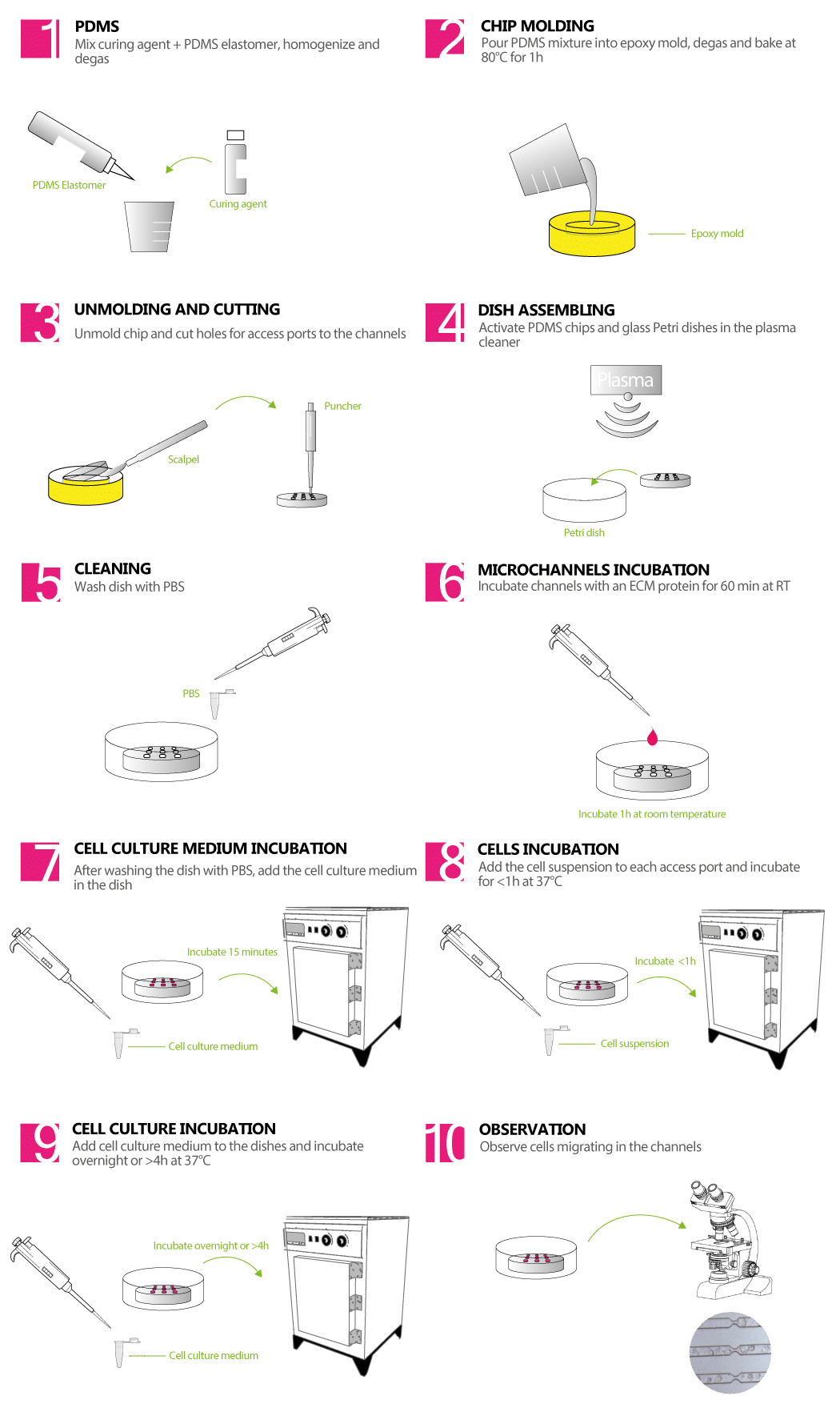 WHICH KIT FITS YOUR NEEDS?
If you never made any microchannels:
Microchannels Station (microchannels box + plasma cleaner)
If you already have a binding tool (for example a plasma cleaner):
Microchannels Box (supplies box + microchannels mold)
If you have all the equipment but want to access the best chemicals:
Supplies Box (silicone precursors, glass bottom petri dishes and solutions)
Each element can also be ordered separately.

WHAT DO YOU NEED TO MAKE YOUR OWN MICROCHANNELS?
To manufacture 100 chips, each 4DCell microchannels kit contains:
> 1 x Silicone precursors to make 100 chips
> 2 x graduated plastic cups to measure the quantity of elastomer needed
> 1 x glass spatula to homogenize the PDMS with its curing agent
> 4 x individual molds to shape the silicone into the upper part of the chip containing the microchannels
> 1 x Scalpel to unmold the chip
> 1 x Thin glass bottom 35 mm petri dishes to make the lower part of the microchannels, and to observe cells with a microscope
> 1 x punches round to cut 3 mm holes into the chip
> 1 x Aliquots of extracellular matrix protein for cell adhesion (for example, fibronectin)
> 1 x Plasma cleaner to activate the surface of the chip and allow its bonding to the glass
The mold on which the microchannels shapes are defined is the key element.
Several series of shapes are available, for migration assay with various sizes, shapes and profiles.
We put our expertise at your disposal to help you make your choice.
MICROCHANNELS' DIMENSIONS
The 3D shape and stress conditions imposed to your cells depend on the microchannels size. Each chip has 6 ranges of microchannels and 9 access ports.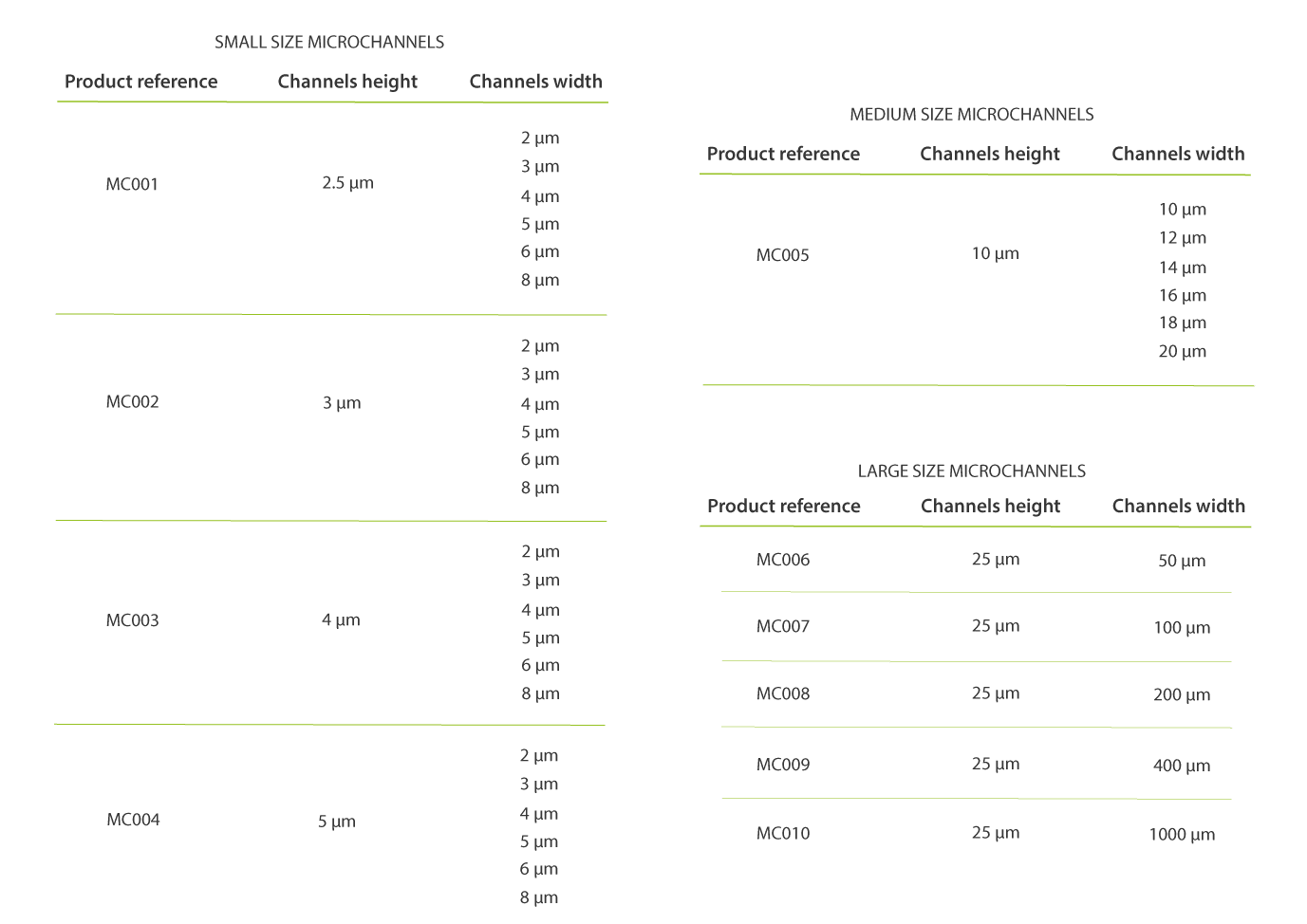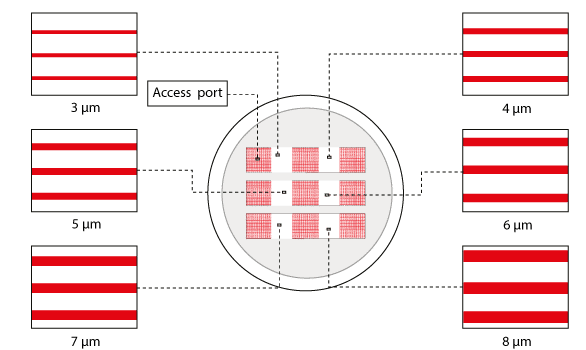 Small microchannels chip design available in different heights (MC001, MC002, MC003, MC004)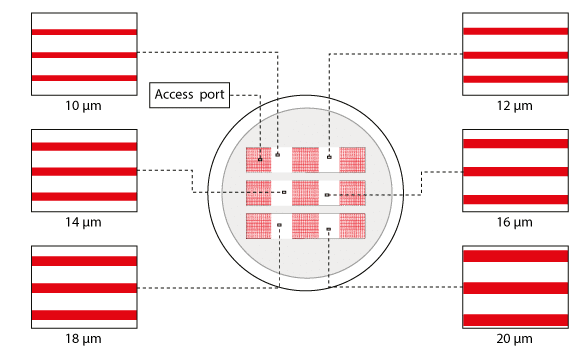 Medium microchannels chip design (MC005)
MICROCHANNELS WITH CONSTRICTIONS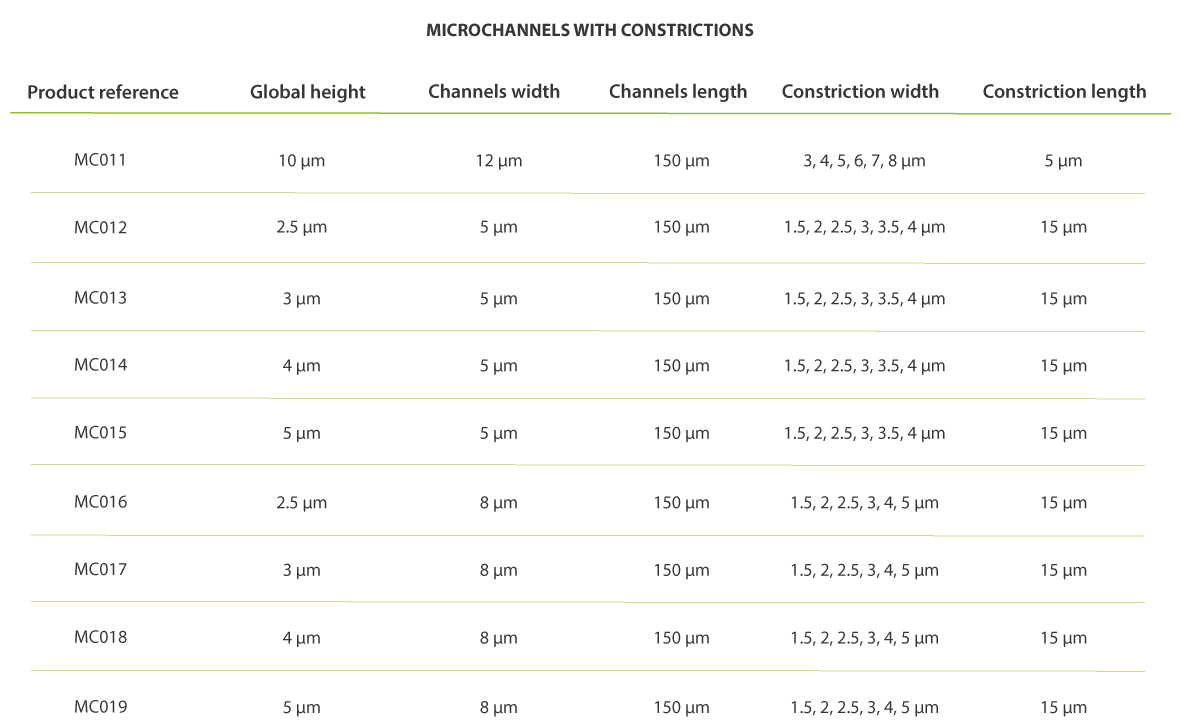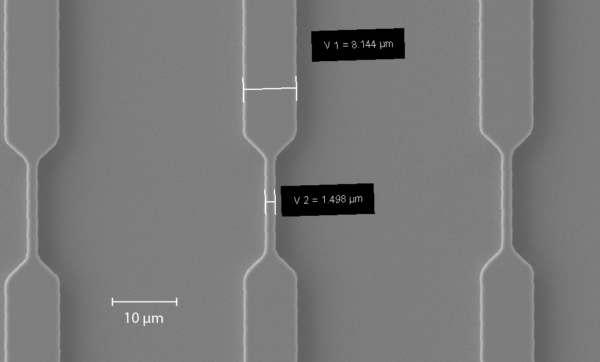 Example of a 4Dcell microchannel with a constriction of 1.5 µm width.
CANCER
> Migration of metastatic cells
> Nuclear plasicity in mestastasis
> DNA DSB repair (mechanically induced)
> Angiogenesis
> Immuno-oncology
IMMUNOLOGY
> Cell-cell interaction
> Migration of immune cells
> Antigene searching
> Extravasation/diapedesis
> Chemotaxis/haptotaxis
ORGAN PHYSIOLOGY
> Migration of cancer cells
> Shear stress
> Angiogenesis
> Epithelium permeability/brain blood barrier
> Neural network
RARE DISEASES
> Cell nucleus integrity
> Nuclear plasticity
> Neural network
FUNDAMENTAL RESEARCH
> Cell adhesion
Example of iBMD Cells migrating within microchannels of different sizes (0.5 image/min)
Réf. video by 4Dcell partner Dr Pablo Vargas, Curie Institute/UMR144
OTHER PRODUCT RELATED TO MICROCHANNELS