Primary cilium assay
Cell shape control for ciliogenesis regulation
4DCELL DEVICE
READ-OUTS
Synchronization of cilium growth, primary cilium observation and normalized cilium positionning
STANDARD CULTURE LIMITATION
High level of confluence and cell cycle arrest are necessary to grow cilium, but in normal culture dish, you cannot dissociate these 2 events as confluence of cells induces cell growth arrest by contact inhibition.
PRIMARY CILIUM ASSAY
Using 4Dcell's assay, cell confluence and cell cycle arrest can be controlled separately. 
In cells confined on small micropatterns, basal body can migrate above the nucleus where they could grow a cilium after serum starvation. In cell spread in large micropatterns, basal body is found below the nucleus where it can not grow a cilium.
EXAMPLES
Cell confinement impacts the actin cytoskeleton architecture to enable ciliogenesis [1]
RPE1 cells are plated either on 750 µm2 or 3000 µm2 micropatterns.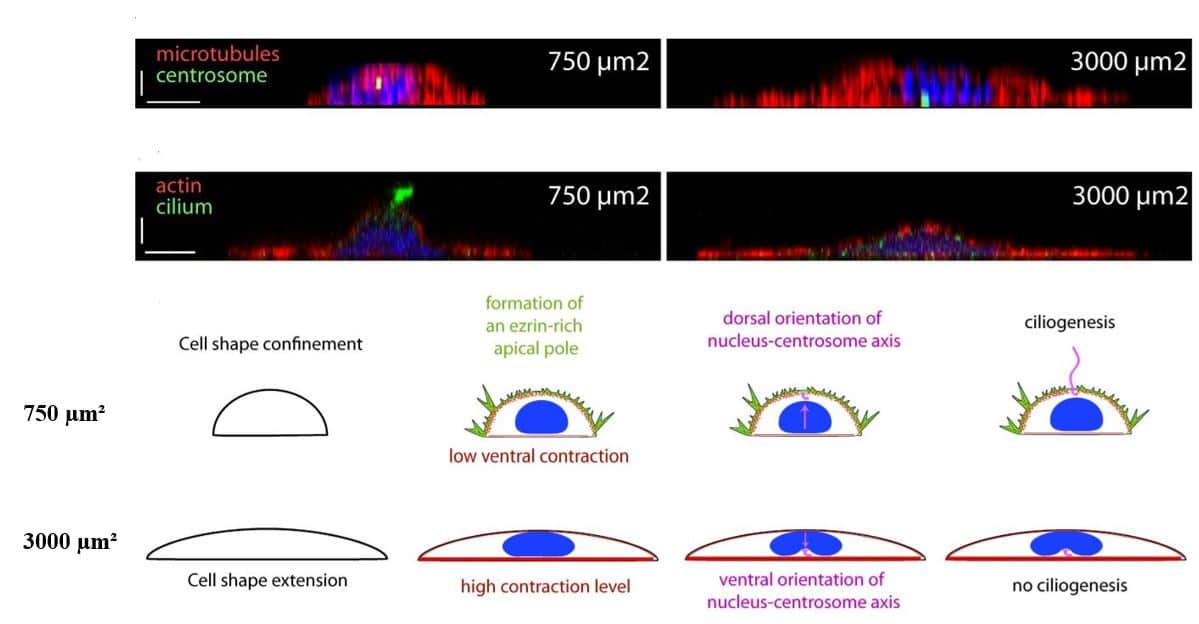 Primary cilium in a single cell confined [2]
(A) Individual RPE1 cells have been plated on micropatterns (750 µm²).
(B) Actin (green), nucleus (blue) and primary cilium (red) can be observed.