EXPLORE CELL MECHANICS 6-WELLS STATIC CONFINER – CSOW 620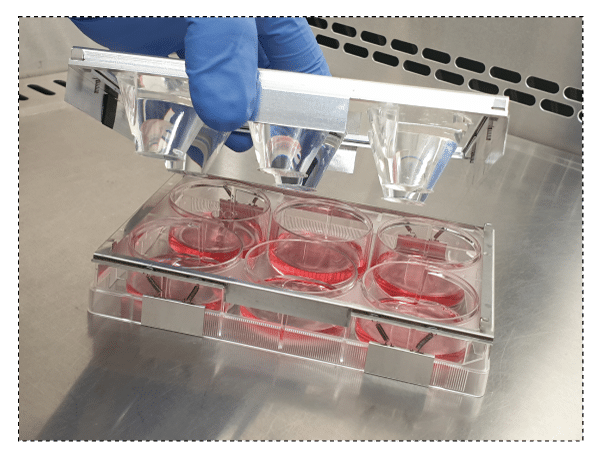 The CSOW 620 – static confiner is a portable device that allows confining cells within two surfaces to a defined micrometer height and with nanometer precision. The space between the two surfaces is controlled by using micro PDMS pillars. The micro pillars are fabricated in a glass slide, which is attached to a PDMS piston.
The CSOW 620 is the device that controls the position of the pistons and it is compatible with glass bottom Falcon 6-well plates. The system is designed for long term confinement of cells. In the end of the confinement experiments, the cells can be retrieved enabling further biochemical studies. The user decides when and where to confine the cells as it is not necessary to plug it to any other device.
The CSOW 620 is characterized by its compact design and possibility to be plugged to a CO2 source. 
> DEFINE THE THICKNESS AND SHAPE OF CELLS 
Control the thickness of your cells with the right confinement slide
> MULTIPLE EXPERIMENTS SIMULTANEOUSLY
Enables the study of different cells or to apply different confinement conditions at the same time
> ADAPTABLE WITH HIGH RESOLUTION MICROSCOPY
Optically transparent materials and compact design enable high resolution microscopy