COVERSLIPS COATED WITH GELS
Tune the stiffness of the substrate to reproduce the in vivo environment

4Dcell offers polyacrylamide gel coated coverslips for cell culture.  
The range of substrate stiffnesses available resemble the in vivo mechanical properties where cells are naturally embedded. 
Cells can be cultured in an easy and fast way, since the coverslips are ready to be used.
> A WIDE RANGE OF STIFFNESS AVAILABLE
From very soft (1 kPa) to very hard (50 kPa)
> READY TO USE
Plate your cells directly 
> OPTICALLY TRANSPARENT
Easy optical observation 
HOW TO HANDLE YOUR COVERSLIP COATED WITH GELS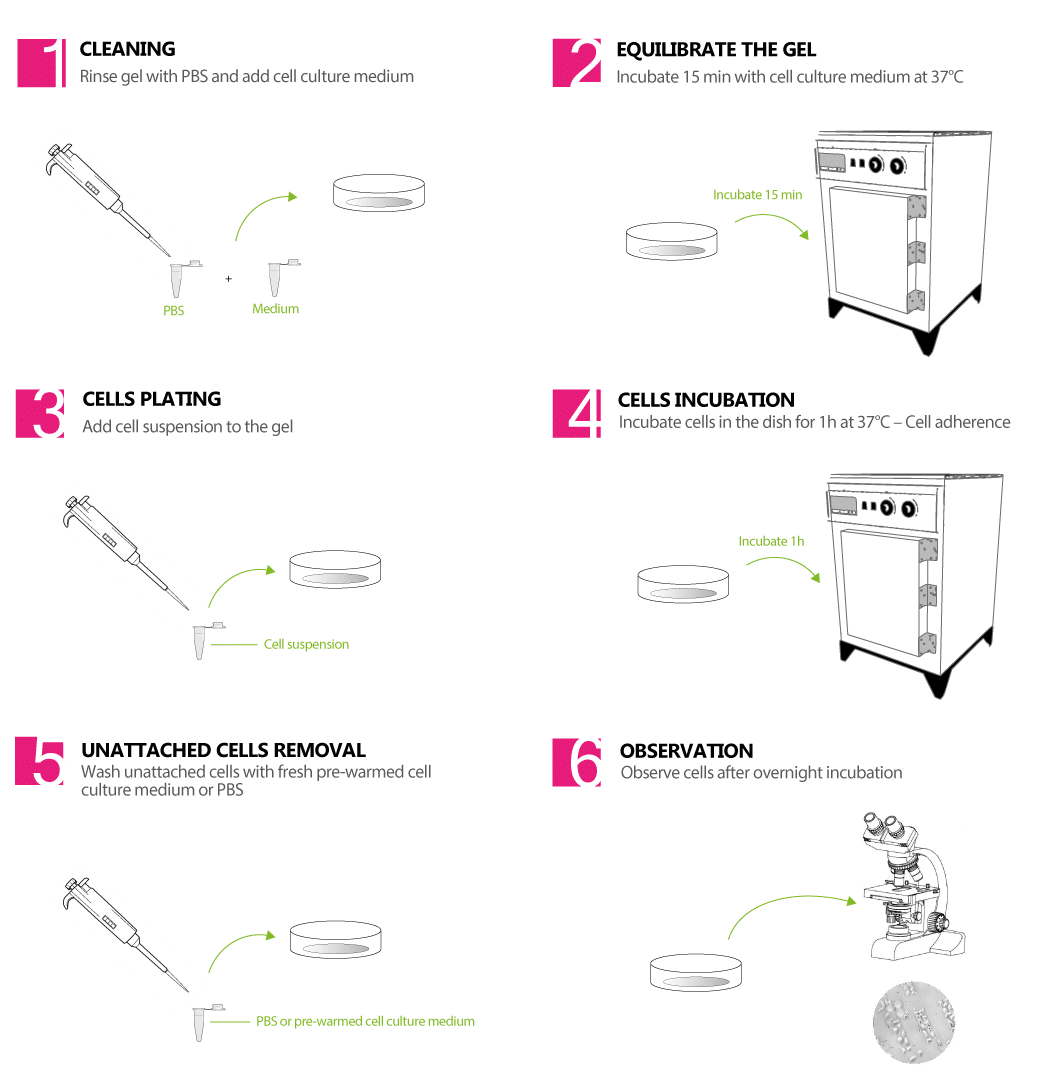 4DCELL GEL COATED COVERSLIPS FEATURES:
Coated with fibronectin, thus ready to be used 
Compatible with high-resolution optical microscopy systems
Provided in individual plastic bags in a water based solution that keeps the properties of the gels 
Standard size: 24 mm round coverslips (approx. thickness 170 μm)
Compatible with perfusion chambers
4DCELL GEL COATED COVERSLIPS STANDARD CATALOG: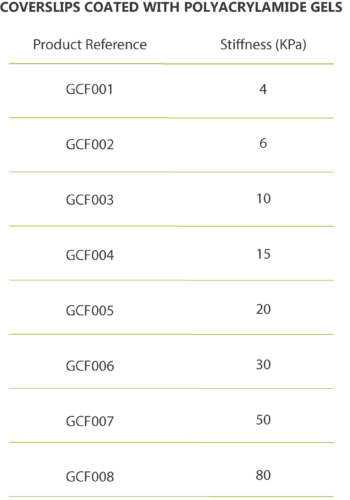 ADDITIONAL INFORMATION:
The size of the coverslips can be modified on demand
The same type of gels can be adapted to Petri Dishes or multiwell plates
If this device does not meet your needs, get in touch with us! We can personalize it for you.
CANCER
> Cell shape standardization
ORGAN PHYSIOLOGY
> Migration of somatic and cancer cells
> Cell shape standardization
> Cardiomyocyte beating properties
> Neural network
> Detection of bile canaliculi in hepatocytes
> Tissue geometry mimicry
RARE DISEASES
> Cell nucleus integrity
> Nuclear plasticity
> Neural network
FUNDAMENTAL RESEARCH
> Cell shape standardization
> Standardized connectivity between neurons
BIOMOLECULAR IN VITRO MODELS
> Spatial autoorganization of macromolecules
(at the microscale)
OTHER PRODUCT RELATED TO GELS