COVERSLIPS COATED WITH MICROSTRUCTURED GELS
Tune the stiffness of the substrate to reproduce the in vivo environment

4Dcell offers microstructured polyacrylamide gel coated coverslips for cell culture.  
The gel based substrates contain soft or rigid microstructures in the form of open microchannels (grooves) or wells.
Therefore, cells can be cultured on substrates that mimic both topographical features and stiffness of the in vivo environment. 
> READY TO USE
Plate your cells directly
> A WIDE RANGE OF STIFFNESS AVAILABLE
From very soft (1 kPa) to very hard (50 kPa)
> A WIDE RANGE OF 3D DESIGNS 
Grooves, square wells, round wells, etc.
HOW TO HANDLE YOUR COVERSLIPS WITH MICROSTRUCTURED GELS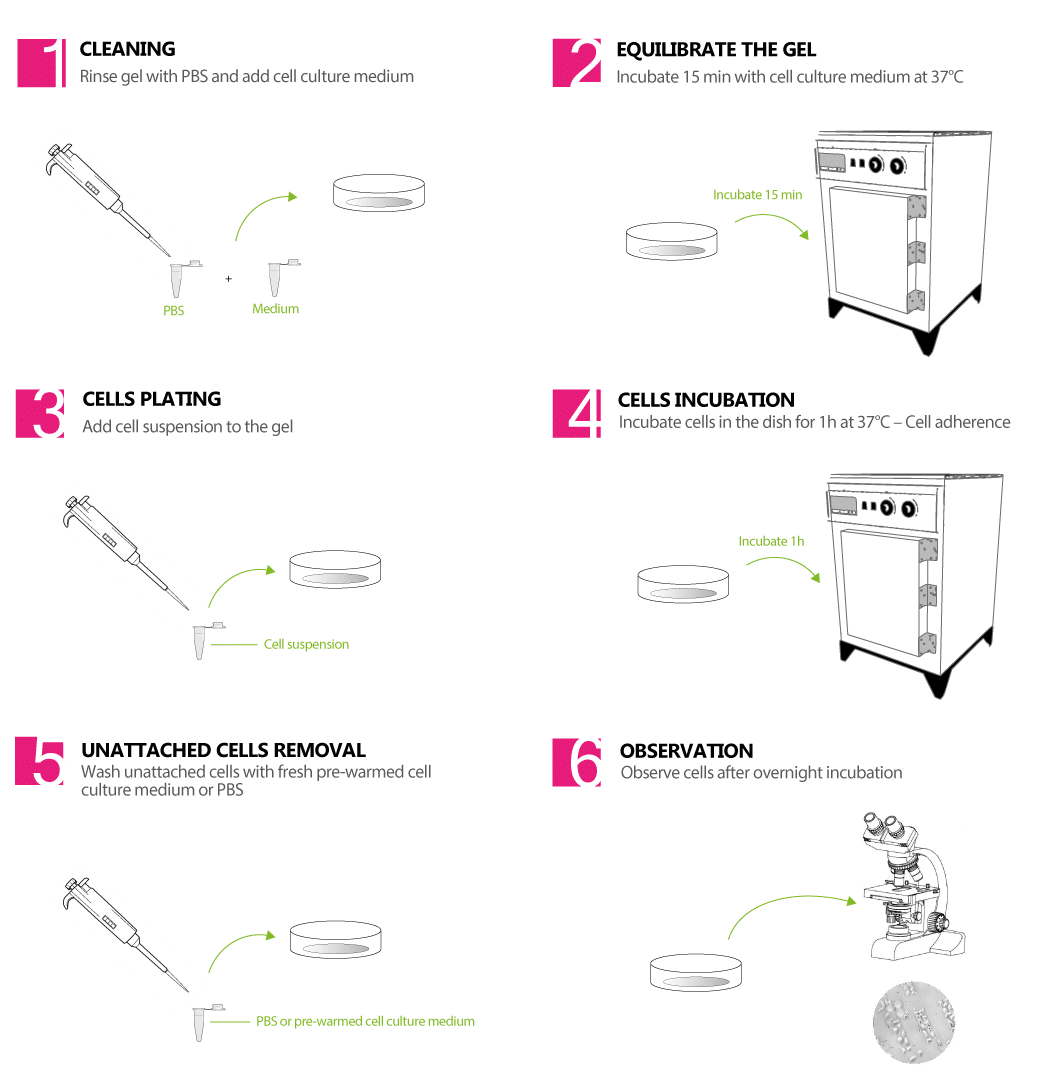 4DCELL GEL COATED COVERSLIPS FEATURES:
Coated with fibronectin, thus ready to be used 
Compatible with high-resolution optical microscopy systems
Provided in individual plastic bags in a water based solution that keeps the properties of the gels 
Standard shapes available: grooves and round wells
Standard size: 24 mm round coverslips (approx. thickness 170 μm)
Compatible with perfusion chambers
A quick and straightforward solution to study confinement of non migrating cells, since cells are directly plated on the top of 3D features. 
4DCELL GEL COATED COVERSLIPS STANDARD CATALOG: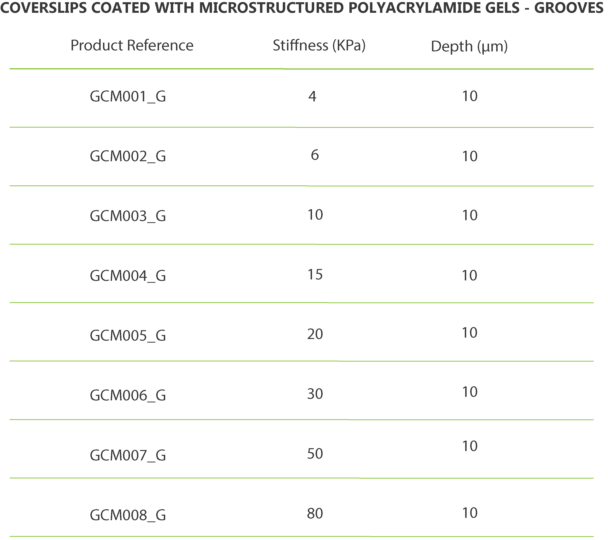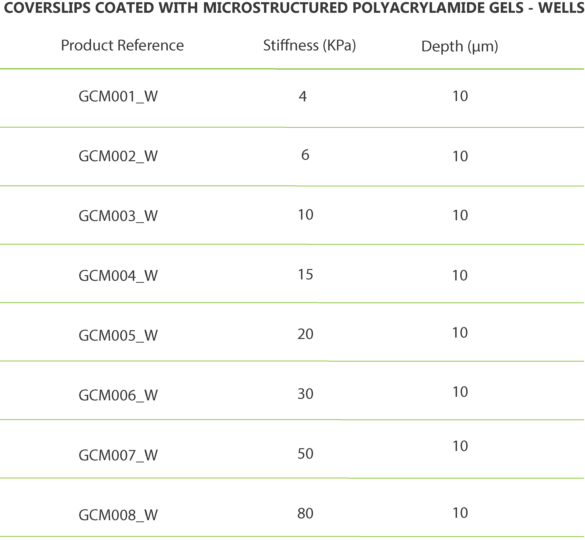 TYPICAL ARRANGEMENT OF THE GROOVES AND ROUND WELLS IN A STANDARD 24 MM ROUND COVERSLIP:
In each coverslip there are eight areas with features of different widths (grooves) or diameters (round wells): from 10 μm to 100 μm
The depth of the structures is 10 μm
The scheme bellow depicts the particular case of the round wells, but the distribution is similar in the case of the grooves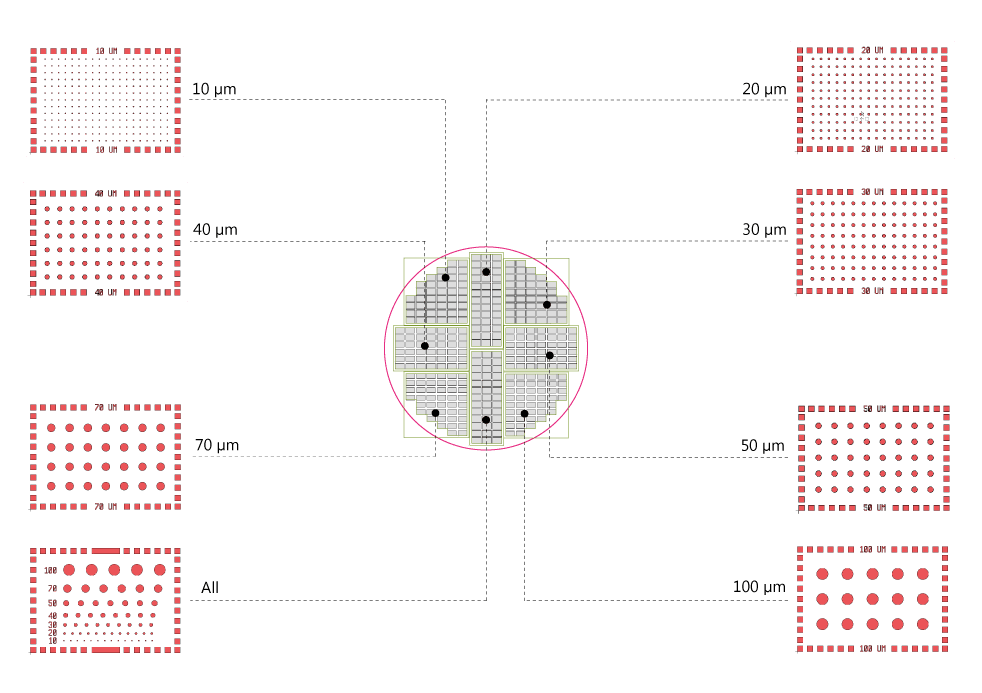 ADDITIONAL INFORMATION:
The size of the coverslips can be modified on demand
The same type of gels can be adapted to Petri Dishes or multiwell plates
Other shapes as triangular wells, square wells or rectangular wells can be fabricated on demand
Other depths can be fabricated on demand 
If this device does not meet your needs, get in touch with us! We can personalize it for you.
CANCER
> Cell shape standardization
ORGAN PHYSIOLOGY
> Migration of somatic and cancer cells
> Cell shape standardization
> Cardiomyocyte beating properties
> Neural network
> Detection of bile canaliculi in hepatocytes
> Tissue geometry mimicry
RARE DISEASES
> Cell nucleus integrity
> Nuclear plasticity
> Neural network
FUNDAMENTAL RESEARCH
> Cell shape standardization
> Standardized connectivity between neurons
BIOMOLECULAR IN VITRO MODELS
> Spatial autoorganization of macromolecules (at the microscale)
OTHER PRODUCT RELATED TO GELS