> COVERSLIP COATED WITH MICROSTRUCTURED GEL
Control the shape and the stiffness to replicate the in vivo environment

Substrates where cells are cultured contain soft or rigid microstructures in the form of open microchannels or wells. Therefore, cells can be confined in 3D environments or on the top of substrates that resembles their in vivo stiffness and that contains these topographical features.
> Ready to use
Plate your cells directly
> A wide range of stiffness available
From very hard (200 kPa) to very soft (1 kPa)
> A wide range of 3D designs 
Grooves, wells, lines, etc.
Several structures available (grooves, square wells, round wells, lines)
Depth can be chosen (5, 10, 15 µm)
Stiffness of the substrate can be chosen from very hard (500 kPa) to soft (< 500 Pa)
Rapid to use since cells are seeded directly on the top of features (convenient to confine non migrating cells)
Bio-functionalization with ECM proteins
Adaptable to any cell culture substrate (from Petri dishes to 96 well plates)
Compatible with high-resolution optical microscopy systems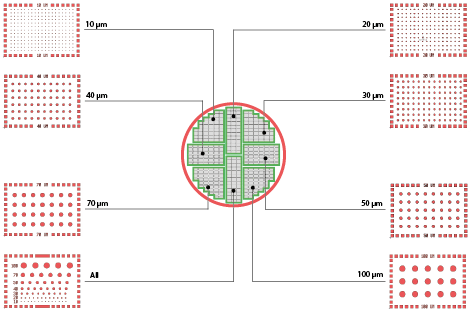 Standard positioning of micropattern areas
> CANCER
Cell shape standardization
> ORGAN PHYSIOLOGY
Migration of somatic and cancer cells

Cell shape standardization

Cardiomyocyte beating properties

Neural network

Detection of bile canaliculi in hepatocytes

Tissue geometry mimicry
> RARE DISEASES
Cell nucleus integrity

Nuclear plasticity

Neural network
> FUNDAMENTAL RESEARCH
Cell shape standardization

Standardized connectivity between neurons
> BIOMOLECULAR IN VITRO MODELS
Spatial autoorganization of macromolecules 

(at the microscale)