MICROPATTERNED MULTIWELL PLATES 96 OR 384 WELLS
For high throughput screening and high content imaging of cell-based micropatterned assays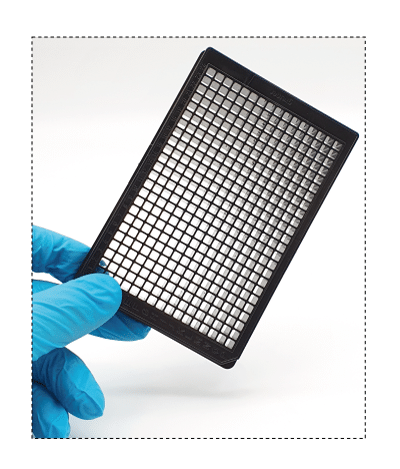 4Dcell micropatterned multi-well plates hold a perfectly organized and stable culture substrate aiming for cell normalization. Evenly distributed on adhesive patterns, cells have a controlled geometry allowing standardization of the assays.
4Dcell micropatterning technology enables 2D cell geometry control. A set of patterns is arranged on a glass bottom to receive cells. Using an anti-adhesive agent and some ECM proteins such as fibronectin or collagen, cells adhere and acquire the shape imposed by the micropattern.
> IMAGING OF SINGLE CELLS AND ORGANIZED CELL GROUPS
> ROBOT PIPETTE READY / SBS 96 OR 384-WELL PLATES
> HIGH-RESOLUTION IMAGING
> COMPATIBLE WITH IMAGING SOFTWARE COMMERCIALLY AVAILABLE

> MINIMAL AUTO-FLUORESCENCE
HOW TO HANDLE YOUR 96 OR 384 MICROPATTERNED WELL PLATES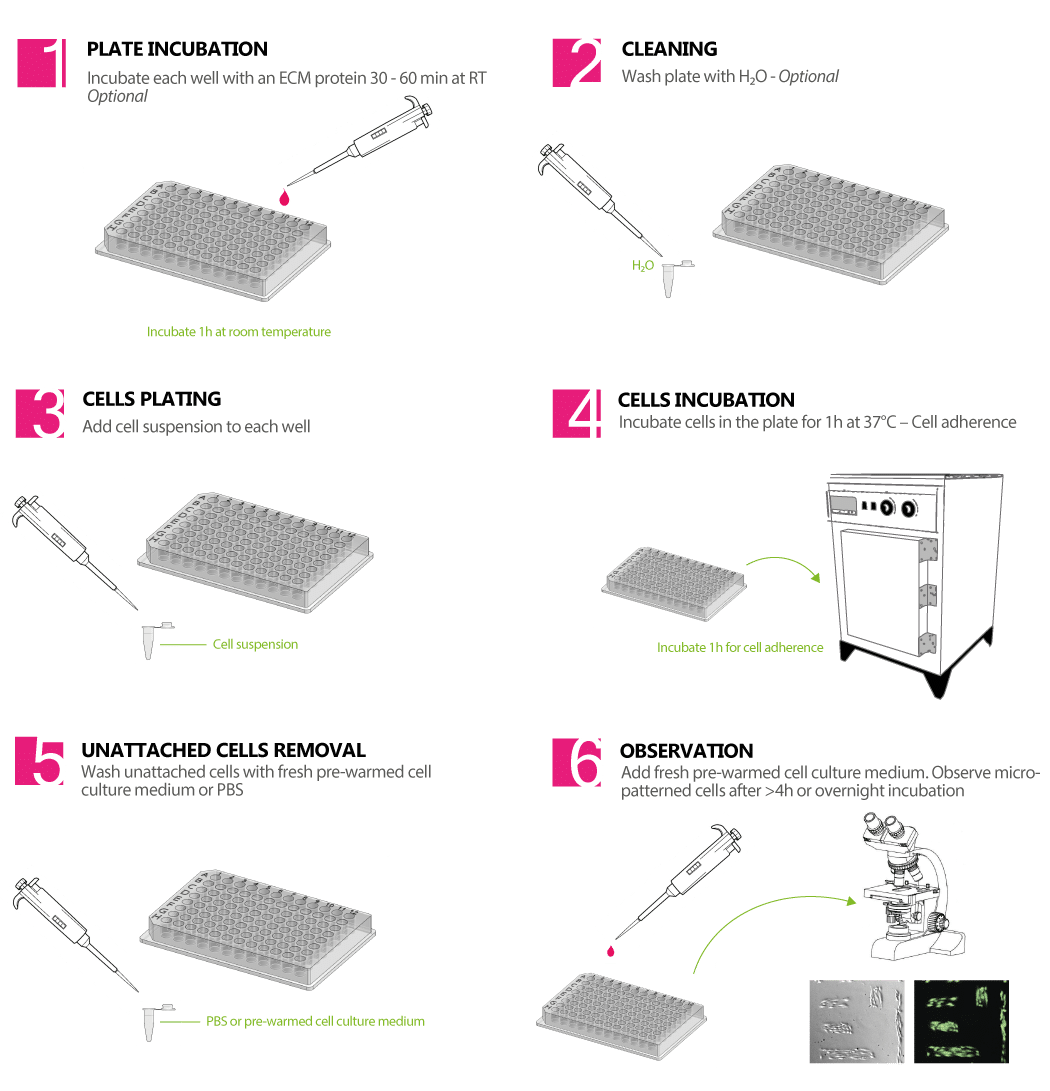 > 4Dcell micropatterned 96 well plates hold a patterned surface to control the 2D geometry of cells and standardize cellular assays.
> Each 96-well plate has the 6 standard shapes of 4Dcell: dots, squares, rectangles, triangles, lines, and grids, as well as sizes going from 10 to 150 µm.
> We also offer the choice of a customizable solution (additional shapes and dimensions).
> The 4Dcell device is compatible with industrial standards for screening platforms (e.g. drug discovery).
> The bottom of the 4Dcell plate is made in glass and is coated with a stable anti-adhesive polymer to delimitate the borders of the patterns. This coating is resistant to oxidation, can be kept at room temperature for six months, and enables keeping the cells in patterns for several days.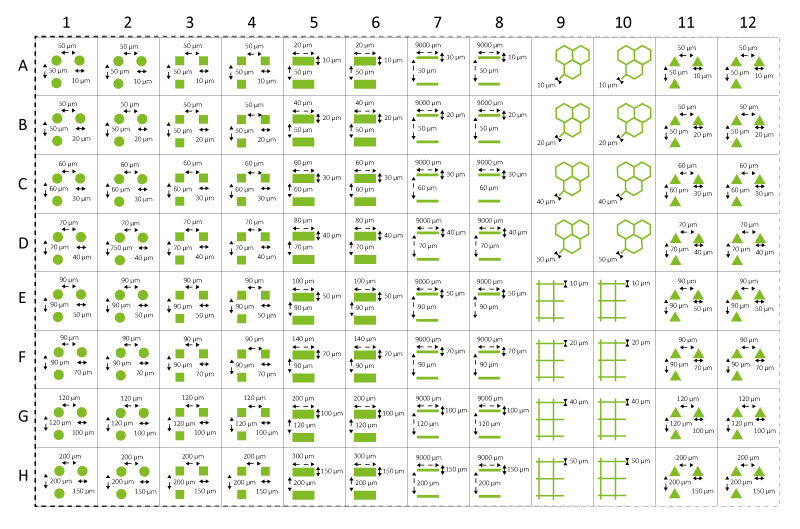 Map of the standard Micropatterned 96 well plate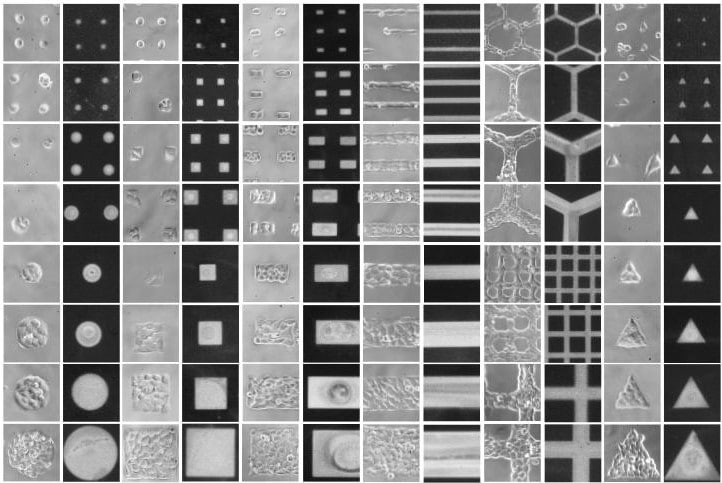 DRUG SCREENING
> High throughput and high content screening
ORGAN PHYSIOLOGY & DISEASE
> Migration of somatic and cancer cells
> Cell shape standardization
> Cardiomyocyte beating properties
> Neural network and neuromuscular junction assays
> Cell nucleus integrity
> Nuclear plasticity
> Co-culture
> Wound healing
> Cellular division
> Cell-cell contact and interaction
> Cell polarization
> Frustrated phagocytosis
> Cellular membrane protrusion assays (lamellipodia and filipodia)
BIOMOLECULAR IN VITRO MODELS
> Spatial auto-organization of macromolecules and organelles (at the microscale)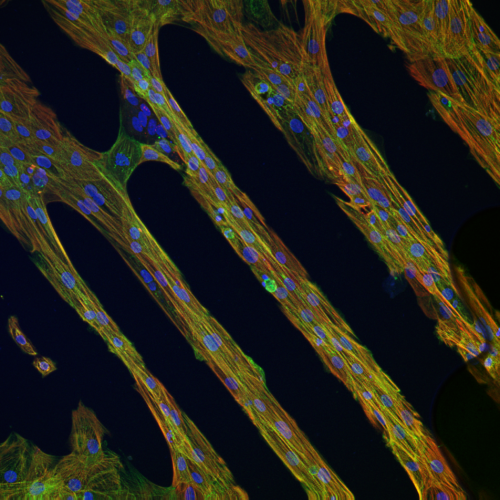 hPSC-CM on line micropatterns of 10 to 70 µm width imaged by fluorescence microscopy.
Dussaud S., Jouve C., Hulot J.S., 2018.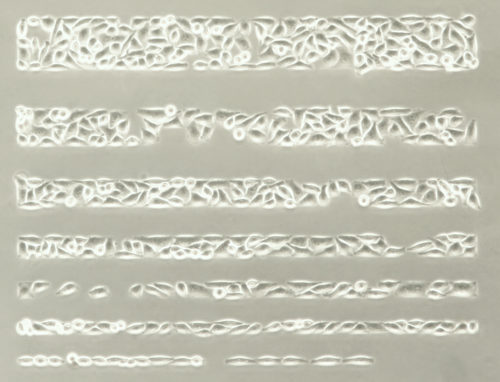 Image of micropatterned HeLa cells in lines of 100 to 10 µm width, 4Dcell lab (2018).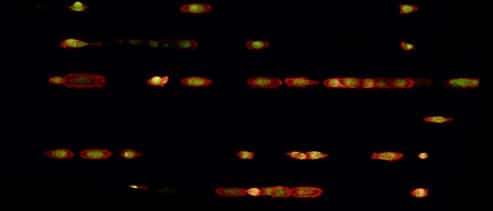 Image of micropatterned cells in lines (labelled by fluorescence) obtained with a 4Dcell photomask.
Hôpital Saint Louis, experiment run with Dr. Benoit Vianay.
OTHERS PRODUCTS RELATED TO MICROPATTERNS