MICROPATTERNING PHOTOMASK
Choose the shape you want for micropatterning experiment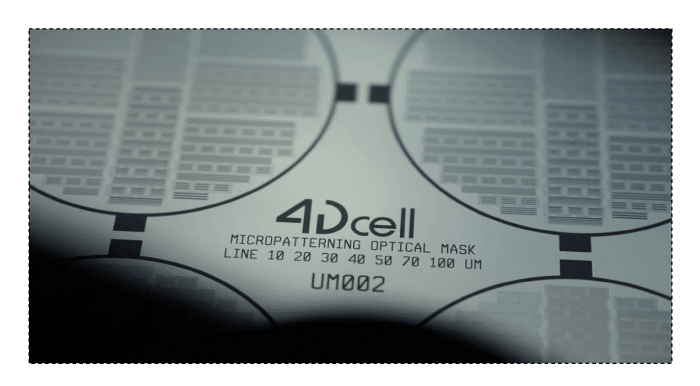 The 4Dcell photomask is a quartz mask with chromium coating used for printing micropatterns on glass slides, with deep UV.
> HIGHLY PRECISE DESIGN
Micropatterns of 10 to 100 µm with 1 µm resolution and 0.25 µm accuracy
> EASY POSITIONNING OF THE GLASS SLIDES
Alignment marks on the edges to help placing the slides
> DIVERSITY OF ANALYSIS
Eight areas, with approximately 42 sub-areas fully observable with a 10x objective field
HOW TO HANDLE YOUR MICROPATTERNING PHOTOMASK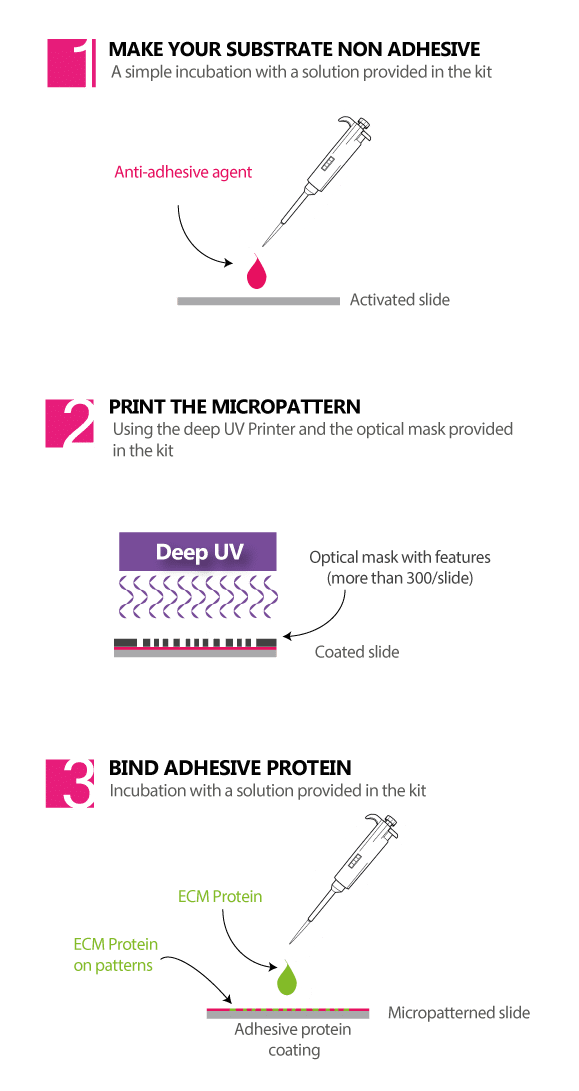 The micropatterning photomask is sold in the micropatterning kit and by itself to make your own micropatterns. It is a 6 cm x 6 cm square that can be used with the 4Dcell Masker for the printing step of the micropatterns.
The standard shapes offered by 4Dcell are: disks, lines, squares, rectangles, triangles and grids.
You can also ask for a customized shape that we can design for you. The formats accepted for the design of a customized photomask are the following: DXF, GDSII, EPS or PDF.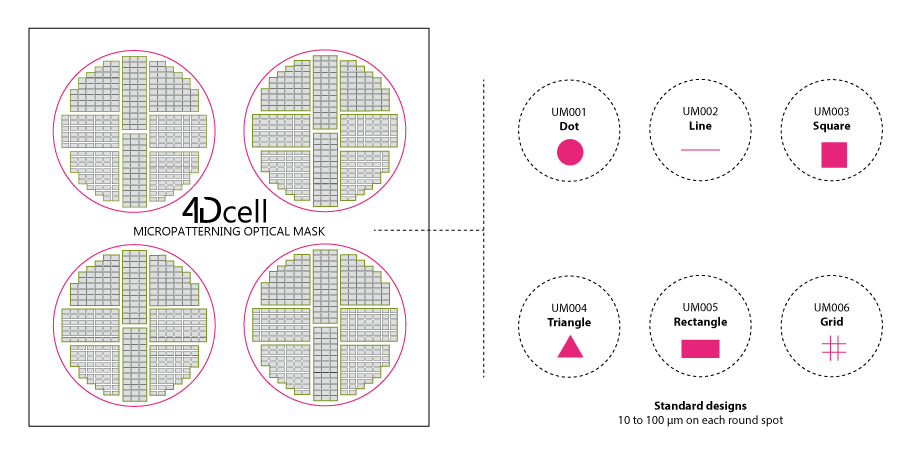 Standard positionning of micropattern areas on the photomask
CANCER
> Migration of cancer cells (line patterns)
> Cell shape standardization
ORGAN PHYSIOLOGY
> Migration of somatic and cancer cells
> Cell shape standardization
> Cardiomyocyte beating properties
> Neural network
RARE DISEASES
> Cell nucleus integrity
> Nuclear plasticity
> Neural network
FUNDAMENTAL RESEARCH
> Cell shape standardization
> Standardized connectivity between neurons
BIOMOLECULAR IN VITRO MODELS
> Spatial autoorganization of macromolecules (at the microscale)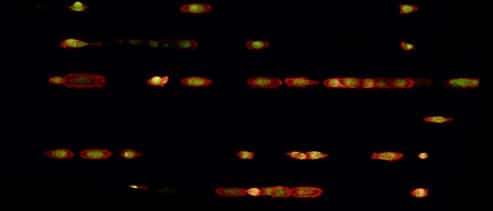 Image of micropatterned cells in lines (labelled by fluorescence) obtained with a 4Dcell photomask
Hôpital Saint Louis, experiment run with Dr. Benoit Vianay
OTHERS PRODUCTS RELATED TO MICROPATTERNS