MICROPATTERNING FABRICATION KIT
Produce your own micropatterns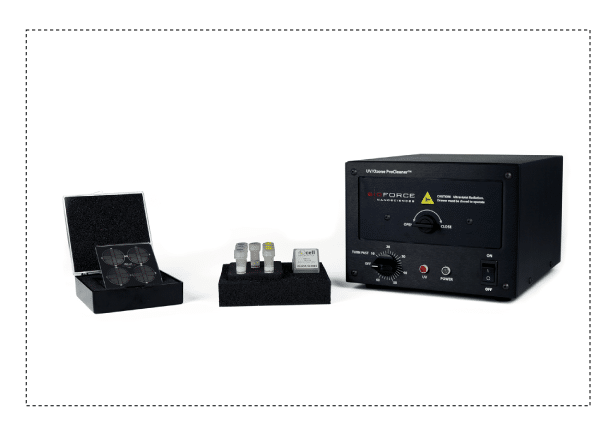 The 4Dcell micropatterning kit includes everything you need to make your own adhesive micropatterns on glass slides for an affordable price.
For each kit, you can choose the shape of the micropatterns among the standard ones offered by 4Dcell or you can customize a specific micropattern.
> CONTROL THE CONDITIONS OF THE EXPERIMENT
Run your micropatterning experiment in accordance with your research needs
> USE A SIMPLE AND AFFORDABLE METHOD
Everything is provided to support you in your experiment
> HIGH QUALITY MATERIAL
Toolbox to make homogeneous and reproducible micropatterns
HOW TO SET UP YOUR MICROPATTERNING FABRICATION KIT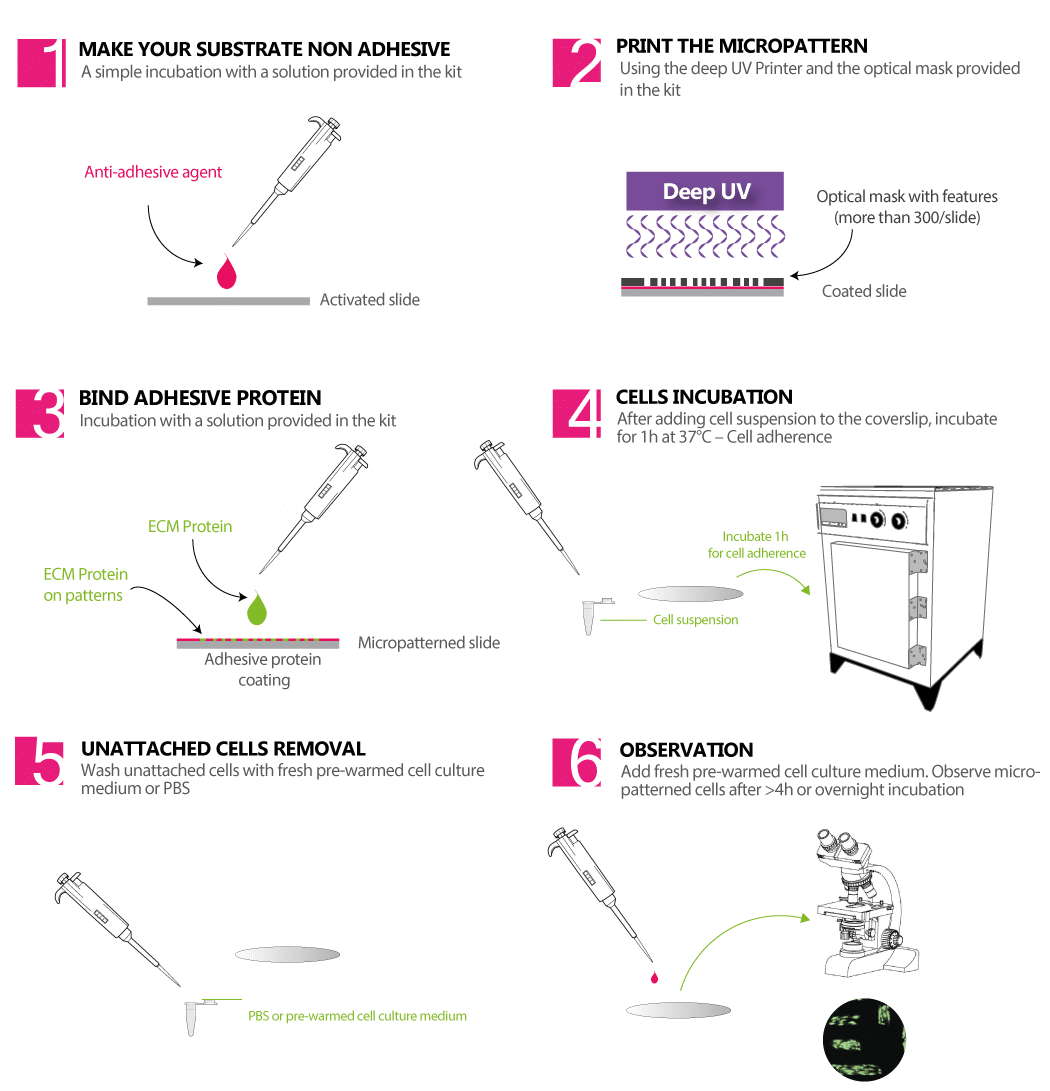 WHICH KIT FITS YOUR NEEDS?
If you never made any micropatterns:
Micropatterning Station (micropatterning box + UV Printer)
If you already have a UV Printer:
Micropatterning Box (consumables box + optical mask)
If you have all the equipment but want to access the best chemicals:
Consumables Box (slides and aliquots of all the needed solutions)
Each element can also be ordered separately.

MICROPATTERNS SHAPES
disks
lines
triangles
squares
rectangles
grids
Or you can ask for customized shapes.
Standard micropatterns sizes go from 10 µm to 100 µm.
WHAT DO YOU NEED TO MAKE YOUR OWN MICROPATTERNS?
To manufacture 100 micropatterned slides, you need:
> 1 x Optical mask: contains the micropattern features. If you already have optical masks compatible with deep UV, you can use them with our kit
> 100 x glass slides
> 1 x Aliquots of extracellular matrix protein for cell adhesion (for example, fibronectin) in the right buffer solution
> 1 x Aliquots of a fluorescent marker to reveal the micropatterns (for example, fluorescently labeled fibrinogen)
> 1 x Aliquots of anti-adhesive molecule (poly-ethylene glycol) ready to bind to the glass slide
> 1 x UV Printer (activation and printing)
We put our expertise at your disposal to help you make your choice.
> CANCER
Migration of cancer cells (line patterns)
Cell shape standardization
> ORGAN PHYSIOLOGY
Migration of somatic and cancer cells
Cell shape standardization
Cardiomyocyte beating properties
Neural network
> RARE DISEASES
Cell nucleus integrity
Nuclear plasticity
Neural network
> FUNDAMENTAL RESEARCH
Cell shape standardization
Standardized connectivity between neurons
> BIOMOLECULAR IN VITRO MODELS
Spatial autoorganization of macromolecules (at the microscale)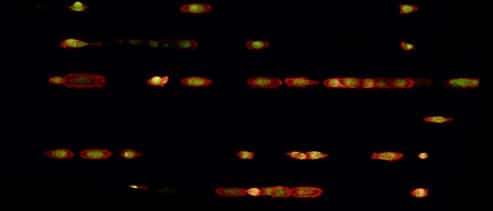 Image of micropatterned cells in lines (labelled by fluorescence) obtained with a 4Dcell photomask
Hôpital Saint Louis, experiment run with Dr. Benoit Vianay
OTHER PRODUCTS RELATED TO MICROPATTERNS